Tom Repp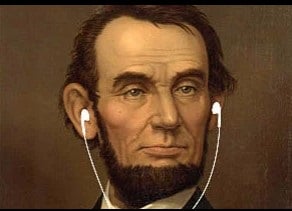 Have you noticed that you can't trust anything lately?
In a world filled with false narratives in the news, on the radio, on the TV and on your smartphone, I believe the average consumer is sick of it all…including your industrial prospects.
Our most trusted institutions in American now come under question.
Recently we find out you can't even trust the caloric information on the Cheesecake Factory menu.
In Michigan we now must endure countless annoying ads on TV, billboards, radio, etc. from every gambling organization in the country promising fortune. I can't wait to see the collateral damage this new wrinkle in Michigan law creates in a few years?
Every time you want to read something of interest on the web or your smartphone you must first dismiss countless annoying ads.
We now know that Facebooks' Newsfeed rewards anger and lies in their algorithm. Best selling author of marketing books, David Meerman Scott, exposes the corruption at Facebook and makes the case that you need to create your own, trusted, content and not depend on social media to promote & publish your company's brand.
Daily we get bombarded by lies, half-truths, deception & unwanted intrusions.
I'm reminded of one of my favorite quotes from one of our most trusted Presidents, Abraham Lincoln:
"No man has a good enough memory to be a successful liar"
"Honest Abe" was right on!
And collectively, we all will remember the politicians, the marketers, the salesmen, customer service reps, the technical oligarchs and the trusted institutions that have lied and destroyed our trust.
OK…I will get off my soapbox.
However, these unfortunate dynamics in our culture and the industrial marketplace provides a unique opportunity for the savvy industrial marketer.
Now…by default, customers & prospects do not want to be sold, but they want great information they can trust about your products & services. And they want that information at a time and format of their choosing.
No more push marketing. Now, it's about trusted pull marketing. Recently, many call it "inbound marketing"
Using a couple sports analogies, 'the ball is in your court" and as an industrial marketer you have "the home court advantage."
Allow me to explain.
I have been practicing industrial digital marketing for over 15 years and I can tell you and I will prove to you that your industrial competitors have not even showed up for the championship game.
This is not hyperbole.
This gives your online industrial marketing efforts two huge advantages:
Your competitors have not even entered the game yet.

Generally speaking…because of our current environment your prospects probably don't trust your online competitors either, providing an "open field" for your marketing efforts.
I'm sure you are asking, "Just how do I take advantage of this strategic advantage?"
Glad you ask!
By following a simple formula from my friend Marcus Sheridan, "They Ask, You Answer" our clients' have won the championship game…and their online competitors have not even shown up for the big game.
Below is a graph from HubSpot depicting the traffic from one of our clients since we deployed this strategy in August of 2017. My client currently gets 14k to17k sessions per month in an industry that nobody thinks about except the few that are in it.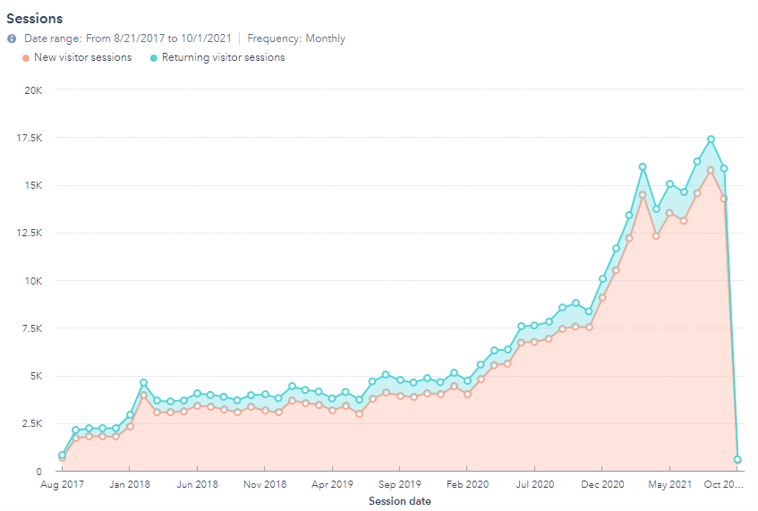 As another of my favorite marketers, Mark Schaefer, points out in a recent podcast, the key to good marketing are the three "R's"… Reach, Resonance and Relevant.
Obviously, we have accomplished some pretty good brand visibility for our client…or "reach" as Mr. Schaefer calls it.
Again, using the basic formula, "They Ask, You Answer", The Repp Group created content that Google and other search engines (i.e. DuckDuckGo.com) and your prospects love. You want both the search engines and your prospects to shout, "Man-o-man…these guys really know their stuff. I can really trust these guys!"
Here is the process, in enough detail to get you started and not so much to bore you.
Growth or Lifestyle?
First, I start with an owner that truly wants to grow their businesses. I have found that there are two kinds of business owners. Owners that really want to grow their businesses and owners that simply are in it for the lifestyle.
The largest client I ever worked with was in it for one thing only, his new Bentley. I could not trust a word he said.
I want hungry owners. I find that their motives are pure, and I can trust them.
Establish Baseline Expectations & Budget:
Once I establish some baseline trust, I discuss costs. Can they really afford to play in the "big leagues" in terms of online marketing?
Do they understand what it takes to be at the top of their online game in a specific industry? I share with them what I feel it will take to climb to the top of the heap in terms of their brand and their online visibility. I want to know what they are willing to spend in terms of time and resources.
Are they willing to invest in marketing automation software?
Are they willing to dedicate time that it will take to become a publishing company as well as a seller of industrial goods and services?
Are they willing to make mistakes…try new approaches…experiment?
Are they willing fire up their team so they can contribute great content their customers will embrace & trust?
Will they allow me to experiment and make mistakes?
Are they willing to give the process the time that it takes to be successful?
Can you say, "Trust"?
By following this basic formula, you can find yourself at the very top of your industry in terms of online visibility.
Is there any other kind of visibility in today's world?
Don't trust my claim?
Check out the graph below from one of The Repp Group client's.
Below you will see a graph from one of my online marketing tools called SEMrush. SEMrush is one of the most trusted online tools in the marketing industry. They describe themselves as "all-in-one tool suite for improving online visibility and discovering marketing insights." Others might simply call it an "SEO (search engine optimization) tool". This tool is trusted by over 7 million marketers. SEMrush is located in Boston, MA.
Let me explain the graph and where the data comes from.

In SEMrush we create "Projects" for our clients. Within those projects we have multiple tools we use to analyze a client's website as well as the competitive landscape in each industry and each location. SEMrush provides tools such as Site Audit, Position Tracking, On-page SEO Checker, Toxic Domains, Social Shares, Listing Management and more.
For the industrial market my favorite tool is the Position Tracking Tool. Quoting SEMrush's own Knowledge Base at https://www.semrush.com/kb/32-position-tracking:
"Position Tracking (also called rank tracking or SERP tracking) lets you track a website's daily rankings for a custom set of target keywords. You can set your targeting to watch any specific geographic location and any device type (mobile phone, tablet or desktop)."
For the graph above I created a "Project" and then targeted 60 topics or keywords that are critical for my client's success. I also entered 20 of my client's fierest competitors. These are real, regional competitors they compete against daily. One of the competitors, the one with the green line on the graph, is the industry leader for sales volume with over 30 locations around the world.
I have also included two websites of the largest trade groups in the industry. I wanted to gauge my client's traffic for industry-related topics with the leading trade groups. As you can see my client answers a lot more questions online than the two largest industry trade groups.
As you can see, for the 60 topics in the Position Tracking Tool, my client now has almost 36% brand visibility. That means that 36%, or 21 keywords, are ranked number one in Google's search engine return page (SERP) compared to their 20 competitors.
As you can see the closest competitor, the largest company in the industry, only has 3% brand visibility.
Now…that is "home field advantage"
I can also tell you that a few months ago my client was at 50% brand visibility as measured by SEMrush's Position Tracking Tool. Then we added15 additional keywords. The new keywords were all from the major industrial brands my client represents. So, when we added the 15 new keywords, we are now competing with some of the largest brand names in the world, therefore the drop from 50% to 36% brand visibility. I believe by adding the right content we can climb back to 50% and beyond. By adding video content, I believe we can reach 75% brand visibility for this client.
Out of 45 topics at that time, our client ranked number one on Google for 23 topics. I actually found a report I sent to the client in July of 2020 from SEMrush to demonstrate.

By creating great blog posts, helpful articles, premium ebooks on a website that is easy to find, easy to search, and easy to navigate, we created trust.
We populate the website with content that answers my client's customer's most pressing questions. The content gets written by technical experts and gets approved by multiple editors before the content is published on the website.
We have not destroyed that trust by using annoying pop-ups on the website either.
Most industrial websites and their brands simply provide, "we have the best service in the industry", or "we provide best pricing in the industry", or "we have been in business longer than anyone else in the industry".
Big deal. Nobody really cares about that stuff anymore. The brand currency is trust.
We have built trust (i.e. brand) by making the content easy to find and in a format that works for almost any new visitor.
Do not rely on the whims of our culture. Treat your most customer-facing marketing asset with tremendous respect and expectations and…
Treat it with trust.
Check your industrial website. Are your locations listed properly so your buyers can easily find your products and services at each location independently?


Author:

Tom Repp

A passionate marketer attempting to change the way industrial marketers leverage the web as a growth-oriented, lead generation machine. View all posts by Tom Repp