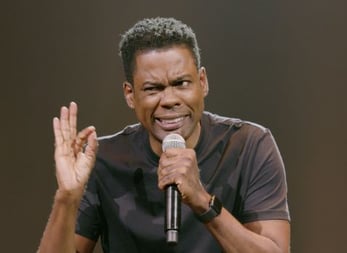 So…what is online visibility percentage & what does video have to do with it?
Online visibility percentage is how often your website is found on the web for a specific set of topics that are critical to your business.
I used to be in retail management for a chain of 25 high-end men's clothing stores. (Boy…am I glad I don't do that anymore!) We used to fiercely negotiate with mall owners for the spots with the best visibility. As you know, men did not frequent malls like the fairer sex, so ease of entrance, was critical in our negotiations. I remember we moved a store in a Chicago mall from one end of the mall to the other just because the store was just beyond a popular sports bar at the entrance of the mall. Our business improved the following year by 20%.
Visibility percentage is critical when it comes to online marketing and the most important metric for B2B industrial marketers.
Let's say that your business has determined that there are 100 keywords or topics critical to your business. For this example, 25 of your keywords are ranked number one in Google. Then your visibility percentage would be 25%. Likewise, only 3 of your competitors' same 100 keywords are ranking number one in Google. Your competitors would have only a 3% online visibility rating.
This is a darn good competitive advantage in the era of search, social, mobile, ZOOM and physical distancing.
In my retail example, this would be like being in a narrow corridor off the least popular anchor store in the mail. The rent would be cheap, but the traffic would be awful.
The more visibility you have, the more traffic and the more top-of-mind awareness for your industrial brand.
So, how does video play into our discussion about visibility percentage?
For the industrial market, where video is under-utilized, this can be THE differentiator in the online marketplace as I will demonstrate.
Let's face it, video is the most powerful channel for engaging with prospects and customers and driving behavior.
Let's use another personal metaphor. I bought a new boat last year and would like to do a little more fishing. Well…I have never been a big fisherman, so I spent most of the dreary months of Michigan watching videos on the best practices for bass fishing. So, the following marketing data comes as no surprise for me or anyone else. I'm sure you have had a similar experience using YouTube to research your next purchase.
These stats about video are eye-popping:
…And the stats keep coming that demonstrate to any business owner, video must be part of your online content arsenal moving forward.
As the old saying goes, "A picture is worth a thousand words"
Put another way…according to Forrester, a 60 second video is worth equivalent to approximately 1.8 million words of text.
So how do you marry these two critical components of your industrial online strategy…visibility percentage & video?
FIRST, SET YOUR GOALS
Most online marketing expertise is focused on B2C and the potential for lead generation. To do that you first need to produce quality content, a skill very few industrial companies possess . Personally, with my industrial customers I want to instill a culture of content creation before we can even think about conversions and lead generation.
For this real-time case study and blog post, I will demonstrate the lack of competition in the industrial market for 30 critical topics for a specific industrial niche. I will also demonstrate how deploying good content can raise an industrial client from nearly 0% to 25%, then to 50% and then to 75% using video.
So…for this example, we are setting a goal of 75% visibility and above by using video.
Think of that. Almost 23 out of 30 key topics will be ranked number 1 in Google, achieving 75% visibility.
Can you say, "Top of Mind Awareness" or "Brand Recognition"?
That is almost as good as the "My Pillow" guy & you did not spend millions on advertising.
HOW TO PRODUCE VIDEOS
As in most businesses, especially industrial where sales have been generated by strong sales groups, it is tempting to take short cuts and produce low quality video just get on the "band-wagon" and keep expenses to a minimum.
You did not take short cuts building your effective sales team, why would you take short cuts with the fastest growing and most customer-facing channel to your buyers?
Video quality can impact Google search over time. Google's Panda algorithm was deployed to reward sites that deliver high quality content and Google has made it clear that your industrial site will not rank well if your content does not provide value to your viewers.
For this blog post, I am not going into the technical details of video production. I am sticking to your top-level strategy. There is content (mostly video!) with information about pre-video and post-video production on the web.
With that said, here are some basic principles for effective online videos.
First, figure out what topics might generate the most traffic for your videos. You know your business better than anyone, so you know the topics to focus on. However, I recommend consulting with your SEO specialist. They might come up with some trending topics on the web that relate to your business. At the very least they will help prioritize your topics based on demand from web searchers.
Please, please provide some professionalism. Use an employee who knows video and can produce production-quality videos or hire it done until you have the in-house capabilities to produce engaging videos. There is no doubt that videos from industrial companies can be boring.
Let's change that…OK?
The best way to avoid boring is to focus on 3 components of your video:
Make sure there is a brand moment: Tell your story. For example, take your highly technical video and have a professional create a high quality, 10 second, introduction by the President expounding on the benefits of doing business with your company. This introduction can be spliced into all your videos. Then have a professional create a short animation trailer about your basic processes that separates your company from the competition. Splice this animation onto the end of all your videos with a call to action (CTA).
A technical moment: This is the easy part. You probably have already done these videos. This is the meat & potatoes of your business & your video strategy moving forward.
Make sure there is an entertainment moment: This is the hard part. I realize you may not have a Steve Martin or Chris Rock or a Hollywood-quality scriptwriter. Be honest with yourself. Somehow you must find an entertainment moment for all your videos to keep viewers coming back and to keep your bounce rates low. Here are some ideas for my industrial friends:

With your President's voice-over introduction, mix in a drone shoot of your physical campuses, then pan to some dramatic micro shoots of processes on your plant floor that your prospects will appreciate.
When speaking about the way you help customers understand complex issues and provide education opportunities, take a 10 second video of your seminars at trade shows or your own seminars you host. Hopefully, there will be some light moments you can insert into otherwise tedious and dull content.
Add music. Do you know of any industrial videos that feature great music that entertain? Be different. Why not feature some appropriate music for your technical videos? The best talk shows in America feature recognizable "bumper" music to introduce the real content of the their shows.
Let your imagination run wild. Hire a professional to find ideas. Check out how Dollar Shave Club made a razor blade & shaving seem fun. Why wouldn't your company be a great candidate for something like this? If these guys can do it with razor blades, why can't you?
Remember you will only pay your professionals a few times as you should be able to re-purpose their creative ideas or the short videos over & over.
WHERE TO EMBED OR HOST YOUR VIDEOS
YouTube has changed everything and is, of course, free. You can establish your own channel and it has some enhanced features that make it highly functional and easy to use.
For me there are several drawbacks to YouTube. Users will have to make several additional steps to get to your website from your branded YouTube channel. And, if viewers watch YouTube hosted videos embedded on your website, you risk diluting your brand when competitors videos or annoying fake news feeds show up when the video is finished.
To get the full SEO benefits from your quality productions, consider hosting on your own website. By sending viewers back to your own domain, Google will provide many more PageRank advantages.
HOW TO PROMOTE YOUR VIDEOS
Now you have faced your fears, you have impressed yourself and kinda' like this video production stuff. Now, you have to decide how your Academy Award winners will be promoted.
So…how do you promote your new masterpieces to the world?
Once your pre-production and post-production efforts are complete, then promoting your videos is not a lot different than regular promotion on the web. There are specific set of best practices involved with a fair amount of creative thinking thrown in.
Let me state again, this exercise will give you a huge competitive advantage because the competition is so far behind for B2B industrial.
You need to use the following best practices to maximize the visibility of your videos and help get your total visibility up to 75% & beyond.
Use your topic keywords in the title of your video
If you are hosting on YouTube, use the "tag" function
Use sub-titles in YouTube
Insert videos into your blogs
Insert videos into your emails
Of course, social promotion is critical on your favorite social platforms, typically LinkedIn for most industrials.
If your website uses a knowledgebase to help customers find quick answers to typical questions, then your knowledgebase is an ideal place to embed all your videos.
Ideally transcribe your video script. Google and others love it when you also provide text for your video. Even though search engines are pretty darn good at parsing content for indexing, a text-based script provides the search engines more accuracy.
Provide an XML video sitemap to Google. Again, provides more accuracy. Google loves accuracy.
Produce high quality thumbnails that help catch the viewers eye. Make sure the thumbnail theme is consistent with the topic of the video. Using deceptive themes as click-bait will get you in trouble.
Don't forget that one of the best reasons to produce and promote videos is the acquisition of back-links and social shares, a huge signal to Google… "these guys know their stuff".
Do not forget to allow comments to your videos. Google sees all & loves interaction with prospects & buyers.
One of the sub-goals should be to achieve rich snippet status with Google. The benefits of video for rich snippets is substantial, however you will be required to self-host rather than using YouTube. Most content management platforms such as WordPress, HubSpot, etc provide capabilities to self-host.
HOW TO MEASURE YOUR SUCCESS
Most video marketers will measure metrics such as, duration of views, attention span & drop-off rates, number of repeat views, click-through rates on select thumbnails, what device your video was viewed on, etc. There are plenty of platforms such Brightcove, Vimeo, Vidyard that can easily measure your metrics.
However, given the lack of content and especially video content in the industrial sector I chose to take a more holistic view of my client's marketing.
To me a good marketer is someone who is able to reach their audience wherever they are. Baby boomers still access information by reading the written word…that is blogs. The millennials' access information by watching videos.
As I said earlier, I'm looking at total visibility percentage as compared to my client's strongest & closest competitors as the key metric to measure & track.
HOW VIDEO EFFECTS YOUR COMPANY'S VISIBILITY PERCENTAGE
Now, back to the whole visibility thing to demonstrate what a dramatic effect it can have on top-of-mind awareness & your company's brand
I digress a little bit for the purposes of putting this example into proper context.
When I first started working with this client, their visibility was less than 1%. That was 6 years ago. I then encouraged them to start blogging and helped them create a culture of content creation. The leaders embraced the concept of blogging and made great sacrifices to consistently produce 4 blogs per month. Their efforts resulted in about 25% visibility beginning about 18 months ago. At that time, the closest competitor was at 4%. That competitor was a multi-billion-dollar, multi-national company compared to my regional client.
Then I encouraged them to up their game and produce, what we call, pillar pages. These are web pages that provide information and resources covering all aspects of a specific topic. Once Google indexes these pages and indexes the outbound and inbound links or sub-topics, they know this page is a real authority on the selected topic. Over time we will continue to link our blog posts, videos, webinars, etc. to our pillar pages. And Google will continue to follow these clicks and links.
Almost immediately my client's visibility climbed to almost 50%. Still the closest competitor was not even close at 5% visibility.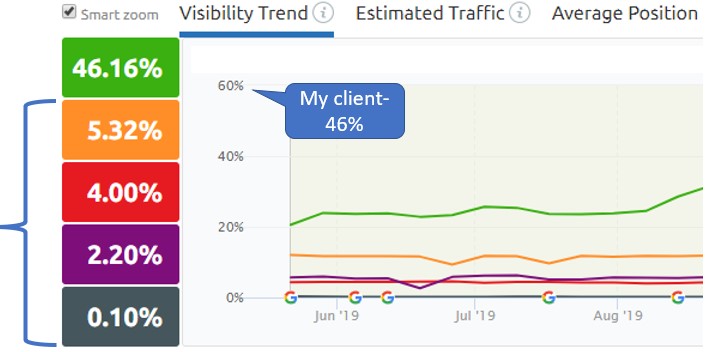 Graph from SEMrush.com's Position Tracking tool, demonstrating online visibility percentage of my client and online visibility of the top 4 competitors (in the blue bracket). The 5.32% represents a multi-billion-dollar, multi-national competitor.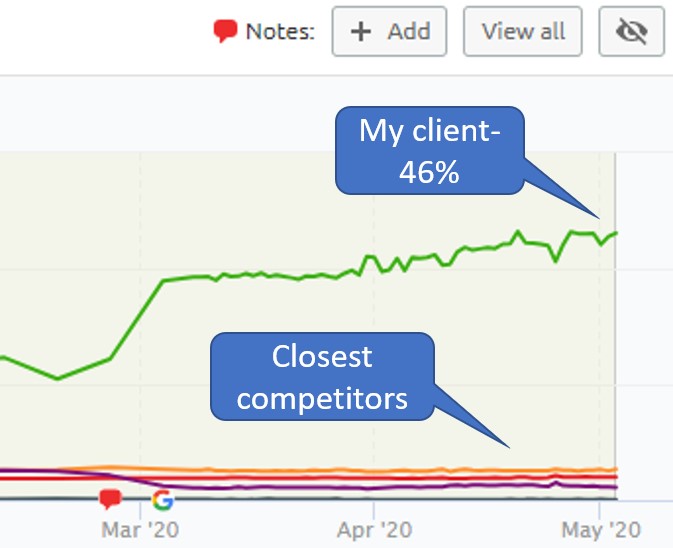 Notice the note in the red call-out the end of February when we published pillar pages. Notice how visibility percentage rose to almost 50%…and it is still climbing.
Now it is time for my client to up their online game again by using video to achieve 75% visibility. Based on my research using tools such as SEMrush.com I do not see any movement at all in the competitor's online marketing efforts. Again, just more evidence the industrial community is lagging behind in terms of leveraging their online presence…a dangerous trend as the world, especially millennial buyers, move entirely online.
Given the lack of competition in my client's niche, I do not see a problem gaining 75% visibility using video.
There are real world changes happening before our eyes…and, with real world solutions.
How visible is your company compared to your online competitors?
For more info on what The Repp Group can do for your industrial marketing & lead generation…CLICK BELOW
Author:

Tom Repp

A passionate marketer attempting to change the way industrial marketers leverage the web as a growth-oriented, lead generation machine. View all posts by Tom Repp