Should Mid-Size B2B Industrials Deploy Marketing Automation?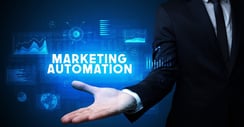 The short answer: YES
The long answer follows below:
In an increasingly digital and interconnected world, the landscape of B2B marketing has undergone a significant transformation. As mid-size B2B industrial companies strive to remain competitive and relevant, the question arises: should they embrace marketing automation platforms like HubSpot to enhance brand visibility and generate leads? In this article, we dive deep into the key considerations for mid-size B2B industrials when contemplating the deployment of marketing automation tools.
The Digital Transformation Imperative
The rapid advancement of technology and the proliferation of online channels have revolutionized the way businesses operate and interact with customers. This digital transformation has not bypassed B2B industrial sectors. As industrial buyers become more digitally savvy, mid-size industrials must adapt to meet their expectations. Marketing automation platforms offer a suite of tools designed to streamline marketing efforts and foster a digital presence that aligns with the modern industrial buyer.
Benefits of Marketing Automation for B2B Industrials
Efficiency and Scalability: Marketing automation platforms empower mid-size B2B industrials to execute marketing campaigns with a higher level of efficiency and scalability. These platforms enable the automation of repetitive tasks, such as email campaigns, social media posts, and lead nurturing. This not only frees up valuable human resources but also ensures consistent messaging and outreach across various touchpoints.
Data-Driven Insights: In the digital realm, data is king. Marketing automation tools provide robust analytics and insights into your campaigns' performance, lead behavior, and engagement metrics. Mid-size industrials can leverage this data to make informed decisions, refine their strategies, and optimize their marketing efforts for better results over time.
Personalized Customer Experiences: Tailoring communication to individual customer needs is a hallmark of effective B2B marketing. Marketing automation platforms allow mid-size industrials to segment their audience and deliver personalized content that resonates with specific buyer personas. This personalization fosters stronger customer relationships and enhances brand loyalty. This personalization is truly one of the key features of marketing automation and often THE competitive advantage for mid-size B2Bs.
Lead Generation and Nurturing: Lead generation is the lifeblood of any B2B industrial company. Marketing automation tools facilitate lead capture through forms and landing pages, and then nurture those leads through targeted and timely content. This process increases the likelihood of converting leads into customers by delivering the right message at the right time in the industrial buyer's journey.
Considerations for Mid-Size B2B Industrials
While the benefits of marketing automation platforms are compelling, mid-size B2B industrials must carefully assess their unique circumstances and resources before embarking on this digital journey.
Resource Allocation: Implementing a marketing automation platform requires an investment of time, money, and skilled personnel. Mid-size companies should evaluate whether they have the internal resources or the capacity to acquire the necessary expertise to effectively manage the platform. Alternatively, outsourcing to a marketing agency with automation experience could be an option.
Integration with Existing Systems: Seamless integration with existing CRM, sales, and other systems is crucial for a successful marketing automation strategy. Mid-size industrials should evaluate whether the chosen platform can integrate with their current technology stack to ensure smooth data flow and accurate insights.
Content Strategy: Marketing automation thrives on a steady stream of relevant and engaging content. Mid-size companies must assess whether they have the content creation capabilities to sustain a consistent flow of materials that align with their target audience's needs and interests.
Buy-In and Training: Successfully adopting a marketing automation platform requires buy-in from leadership and teams across the organization. Adequate training and education are essential to ensure that employees can effectively utilize the platform's features and capabilities.
Long-Term Strategy: Marketing automation is not a one-size-fits-all solution. Mid-size industrials should develop a comprehensive, long-term strategy that aligns with their business objectives and growth trajectory. This includes setting clear goals, defining metrics for success, and regularly evaluating and adjusting the strategy as needed.
The HubSpot Proposition
HubSpot, a leading marketing automation platform, has gained popularity among businesses of various sizes, including mid-size B2B industrials. Its user-friendly interface, robust features, the very best customer service and comprehensive suite of tools make it an attractive option for companies seeking to enhance their digital presence.
HubSpot offers capabilities such as email marketing, lead scoring, marketing analytics, social media scheduling, and CRM integration. Its "all-in-one" approach can simplify the process for mid-size industrials, allowing them to manage multiple aspects of their marketing efforts from a single platform.
With all the accolades said, I have worked with many competing marketing automation platforms. I have tried to piece together disparate software using WordPress as the main content management system (CMS) … then adding plug-ins that replicates all the features of marketing automation like HubSpot.
Do not waste your time.
Embracing a quality marketing automation platform like HubSpot can literally change the destiny of our industrial company forever… IF…you commit the time and resources to do it right.
Conclusion
The world of search, social, mobile and AI has ushered in a new era of B2B marketing, one that necessitates a strategic and dynamic approach to stay competitive. Mid-size B2B industrials stand to gain significant benefits from deploying a marketing automation platform like HubSpot. Enhanced efficiency, data-driven insights, personalized customer experiences, and improved lead generation are compelling reasons to consider this technological advancement.
However, the decision to adopt a marketing automation platform should not be taken lightly. Mid-size industrials must carefully evaluate their resources, integration capabilities, content strategy, and long-term objectives before diving in. HubSpot and similar platforms offer a powerful toolkit, but success hinges on a well-defined strategy, dedicated personnel, and a commitment to continuous improvement. Frankly, patience is the key to marketing automation success.
In a business landscape that rewards agility and innovation, mid-size B2B industrials have the opportunity to leverage marketing automation to not only bolster brand visibility and lead generation but also to navigate the complex digital terrain with confidence. As the digital transformation journey unfolds, embracing the right tools can make all the difference in realizing the full potential of a mid-size B2B industrial company.
Further, my 20 years of experience and much research tell me that many of your mid-size competitors are not embracing marketing automation yet. This fact tells me there is a tremendous competitive advantage moving forward for most B2B industrials if they make a commitment to marketing automation.
Go ahead. Make a list of 20 of your most important keywords or topics for your industrial business. Go to Google and check to see if your company's sales and marketing materials greet your buyers at the top of Google. If not, you might want to start thinking about sticking your toe in the water of the marketing automation world.