The Importance of Regular Website Updates for Industrial Marketers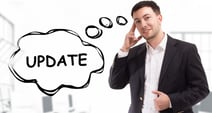 In today's digital age, a strong online presence is crucial for businesses across all industries, including the industrial sector. A well-designed and up-to-date website is your most powerful marketing tool that can help industrial marketers attract new customers, build credibility, and stay ahead of the competition ... 24/7. In this article, we will higlight the reasons why industrial marketers need to update their websites more frequently and the benefits it can bring to their overall marketing efforts and your top line growth.
Reflecting Industry Trends and Innovation
The industrial landscape is constantly evolving with technological advancements, changing customer preferences, and emerging market trends. By regularly updating their websites, industrial marketers can showcase their ability to stay at the forefront of industry developments. This demonstrates a company's commitment to innovation and keeps visitors engaged and informed about the latest offerings, products, and services. Regular updates also help industrial marketers adapt their website content to address the evolving needs of their audience's persona, ensuring that they remain relevant in a competitive market.
Keep in mind a website is now your most customer facing marketing asset. I have over 25 years experience helping industrial marketers navigate the web and rarely do they update their website's as often as they should. This needs to change in the brave new world of search, social, mobile and AI.
I can' t tell how many times I researched a product or service online and been turned off by a poorly designed and outdated website and moved on to the next competitive website. I'm sure you can relate to similar experiences.
Search Engine Optimization (SEO) and Increased Visibility
Showcasing Expertise and Thought Leadership
Industrial buyers are often looking for trusted partners who can provide them with expert knowledge and solutions. A well-maintained website that is frequently updated allows industrial marketers to showcase their expertise and establish thought leadership within their niche. By publishing industry-specific content, such as whitepapers, e-books, or informative blog articles, industrial marketers can position themselves as trusted authorities. This not only helps in attracting potential customers but also encourages repeat visits and fosters customer loyalty.
Improved User Experience and Engagement
I repeat, a website that is outdated, cluttered, or difficult to navigate can be a major turnoff for visitors. Regular website updates provide an opportunity for industrial marketers to improve the user experience by implementing user-friendly designs, responsive layouts, and intuitive navigation. By using makreting automation and analyzing user behavior and feedback, marketers can identify areas for improvement and make necessary adjustments to ensure a seamless and enjoyable browsing experience. Engaging visuals, interactive elements, and fresh content keep visitors interested and encourage them to explore further, leading to longer site visits and increased engagement.
Just the other day I was looking for a lawn maintainence company. I called a local company that had the best and most updated website.
Conclusion
In the ever-evolving industrial landscape, industrial marketers can no longer afford to neglect their websites. Regular updates not only keep the website relevant and engaging but also contribute to improved search engine rankings, enhanced user experience, and increased brand visibility. By embracing website updates as an ongoing process, industrial marketers can effectively position themselves as industry leaders, attract more qualified leads, and achieve long-term business success in the digital age. Embracing the transformative power of regular website updates is an investment that yields substantial returns for industrial marketers.