How Long for Online Success for B2B Industrials?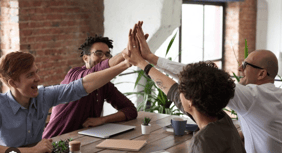 The success of online or digital marketing for a mid-size B2B industrial website can vary widely depending on several factors. There is no one-size-fits-all answer to this question, but here are some factors that can influence the timeline for success based on my 20 years of experience:
First, let's define "success."
Let's keep it simple. To me success in the B2B industrial market means "brand visibility". That is, how often your sales and marketing materials get found when a buyer searches for your products, service, answers to common industry issues, technical data, etc.
In the age of search, all other online marketing activities begin with being found.
If your company has 200 keywords or topics that need to be at the top of Google's search engine return page (SERP) and more than half of those 200 topics are at the top of Google's SERP, your brand has 50% visibility. By B2B industry standards that is pretty darn good. If only a few of your keywords or topics are at the top of Google's pages, your brand visibility ... in the age of search ... is awful.
Poor brand visibility determines the success of ALL your online activities; email marketing, lead nuturing, content creation, social promotion ... everthing!
Why build a website, if no one sees it? Is your sales group successful if they are not in front of your customers?
Indeed, you have not set up your B2B online strategy for success if your fail to address your buyers' future behaviors using brand visiblity as a key metric for success.
Industry and Competition:
The level of competition in your industry plays a significant role. In highly competitive industries, it may take longer to see results compared to niche industries with less competition. However, in the mid-size B2B industrial market, success can come quickly depending on the industrial niche that you occupy. In my years of experience, I have found that most B2B industrials have not given the web the credit or the effort that it deserves. Therefore, in most cases, success can come quickly to the mid-size industrial market.
Quality of Content:
High-quality, informative, and engaging content is more likely to attract and retain your target audience. If your content is exceptional, you may see results more quickly. This can be a real struggle for B2B industrials. If you have not ramped up a good content strategy and a content "machine" to publish online, then success will take more time and patience.
Consistency:
Consistency in publishing new content is crucial. Regularly updating your website with fresh, relevant content can help build trust and authority in your industry. In my experience this is also a challlenge for B2B industrials. There are several occasions where I could see good content gaining traction ... that is, topics moving past their competitors on the search engine return pages. Yet, because there were no million dollar contracts closed as a result of online lead generation, the owners gave up on the strategy. Patience is key for success!
SEO Strategy:
An effective SEO (search engine optimization) strategy can significantly impact how quickly your content ranks in search engines. Proper keyword research, on-page optimization, and backlink-building efforts can speed up the process.
This element of success gets ignored the most.
Most B2B industrials have hired an agency to build a great looking website. The problem is most web developers do not do SEO and therefore miss this most critical marketing function.
Content Promotion:
Simply creating content is not enough; you also need to promote it. Sharing your content on social media, through email marketing, and other channels can help increase its reach and speed up the time it takes to see results. In the vane of keeping it simple, focus on Linkedin for the mid-size B2B industrial market.
Audience Engagement:
Engaging with your audience through comments, social media, and other channels can help build a community and accelerate the success of your content marketing efforts. Have your marketing intern or receptionist monitor all social media 24/7 and then filter responses off to your key people for review and response. Stay engaged.
Conversion Optimization:
Make sure your website is optimized for conversion. If visitors are not taking the desired actions (e.g., signing up for a newsletter, requesting a quote), it may take longer to see tangible results. This function is easily done with marketing automation, such as HubSpot. However, most B2B's are unwilling to invest the time and dollars that it takes to get an ROI using marketing automation.
I wrote the blog post, Is Marketing Automation Worth It? 10 years ago. The 9 elements highhlighted in my post are as valid today as they were in 2013.
Patience and Persistence:
Content marketing is a long-term strategy. It often takes months, or even years, to see substantial results. Be patient and persistent in your efforts. My most successful clients have taken 4-6 years to gain over 30% brand visibility. (i.e., 30 out of 100 keywords are in the top 3 spots on Google's return page.)
Even at 30% brand visilibity, the brand equity and trust is invaluable as more of your buyers move online for good. And ... they are not going back to their old ways of procurement.
Analytics and Iteration:
Regularly monitor your analytics to understand what is working and what is not. Use this data to make informed adjustments to your content marketing strategy. Again, marketing automation and SEO tools such as SEMrush provides the best data to monitor your success.
I published a blog post 2 years ago titled, How to Kill Your Online Competitors with Trust that details how analytics from SEMrush helped me gain 50% brand visilibility compared to my clients online competitors. Their closest competitor, a billion dollar multi-national, was at only 5% brand visibility.
Moving forward, this is a game-changer for a smaller mid-size B2B industrial.
Conclusion:
In general, it is important to set realistic expectations. Content marketing is not a quick-fix solution; it is a marathon, not a sprint. While you may start seeing some results within a few months, significant success can take a year or more, especially in B2B industries where sales cycles tend to be longer. The key is to consistently produce high-quality content, optimize your strategy based on data and feedback, and stay committed to your goals over the long term