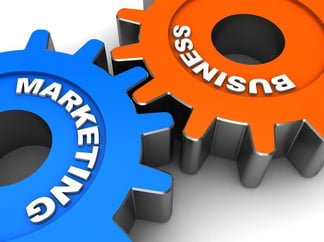 Content marketing will soon become the standard for your industrial marketing strategy.
Three huge hurdles await the bold & brave.
There must be buy-in from the owner/CEO. If the folks at the top do not understand content marketing and are not fully behind this effort, it will fail. Do not doubt me.
Most mid-size industrial companies lack the creative copywriting skills. If you throw crappy content on the web…it will not resonate. It will not work. Google knows if your prospects and customers consume your content, so create high quality, helpful content.
If you get the first two right, you need to manage your content assets with a marketing automation platform. Go ahead and try to cobble together a marketing platform using all the free stuff on the web to manage your email marketing, your blog publishing, social media monitoring, etc., etc. Knock yourself out.
On the other hand, if you are a smart industrial marketer, and want to do content marketing well, you will invest in marketing automation. There are a lot out there and I have written extensively about them:
Which Marketing Automation Platform is Best for Industrial Marketing
Google Analytics or HubSpot for Industrial Marketers?
Is Marketing Automation Worth It?…9 Business Reasons Why Industrial Marketers Must Embrace It.
Now…there is one more article just published September 15th at entrepreneur.com by Adam Toren titled the 5 Ultimate Content-Marketing Tools. In the article, Toren holds up HubSpot as the "Gold Standard" for marketing automation.
Allow me to quote Toren and then add my comments as they relate to our industrial marketing friends:
"[HubSpot] has incredible customer support".
I am a stickler for customer service. I have dealt with dozens of software companies and HubSpot has raised the bar so high, I seriously doubt if anyone can top them. As a marketer and not a programmer, I need help at least once a week. I can think of only twice in the last 3 years where I have not been first in line for customer support. Typically, my wait is less than 30 seconds. When I do talk to their talented team, I am always thrilled with how little effort it took.
"[HubSpot"] has loads of tools for monitoring and creating effective blog posts, landing pages and other heavily supported content-marketing campaign initiatives."
First, HubSpot's user interface is top-notch. As each iteration rolls out the UX becomes easier for the marketing crowd to manage. With that said, the basic layout and menu system remains very similar to the layout I became accustom to several years ago…no small task when it comes to user-interface design. Managing your blog posts, e-mail marketing and social media assets is a breeze, once you attend HubSpot Academy and get the hang of it and.
HubSpot Academy is outstanding. As a salesman for Apple, back in the day, I became a real believer in online/distance learning. HubSpot has one of the best online education experiences I have ever used.
"HubSpot also has social media analytics and message-scheduling capabilities, so your content can seamlessly publish to your social channels".
All the reporting capabilities you can dream of are easy to access and configure. For my market, mid-size industrial companies, the reporting capabilities are ideal & well worth the monthly license fee.
"[HubSpot] offers some of the best free white papers on content marketing, social-media best practices and other marketing tools available on its site". As I mention in my blog post, Is Marketing Automation Worth It?…9 Business Reasons Why Industrial Marketers Must Embrace It , one of the real benefits of HubSpot is the virtual education you receive when you take advantage of all the content these guys produce. HubSpot elevates the term "value-add" to a whole new level.
Regardless of my thoughts, my experiences, check out marketing automation for yourself.
Interested in learning more about content marketing…the fuel that feeds the marketing automation machine? Grab our e-book titled Beginner's Guide to Industrial Content Marketing
Maybe you are ready to raise your hand and say, "Help". Click the graphic below for a COMPLIMENTARY 30 minute consultation.
Author:

Tom Repp

A passionate marketer attempting to change the way industrial marketers leverage the web as a growth-oriented, lead generation machine. View all posts by Tom Repp