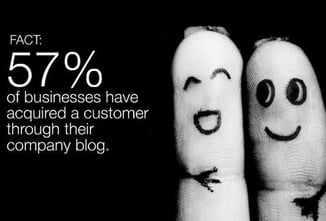 Your industrial marketing strategy is replete with tons of new digital options and opportunities. It truly makes your head spin.
To extend your brand strategy, first start with your industrial blog.
Way, way back in 2013 I wrote a blog post about Indium Corporation and how they leverage their blog to promote their brand. At the time their primary brand theme was, "From One Engineer to Another". What better way to connect with your prospects and truly deliver on the brand message than blogging and engaging with your engineering customer base. I personally talked to Anita Brown, Marketing Communications Manager, at Indium to validate the positive results I had heard and read.
Currently, most industrial marketer's still po-po blogging. "To time consuming". "No ROI". "We don't have the writers". I still believe, in the long-term, an authentic and helpful blog is the least expensive way to promote your industrial brand. Did I say, "long-term"?
Even farther back in 2010, my industrial marketing friend and practitioner, Achinta Mitra, also wrote a blog promoting the virtues of blogging to promote brand strategy for industrial.
I remind you that all three of the blogs in Achinta's post are still blogging.
Do you really think these companies would continue blogging if their efforts were not generating leads and sales?
Maybe you are ready to raise your hand and say, "Help". Click the graphic below for a COMPLIMENTARY 30 minute consultation.
Author:

Tom Repp

A passionate marketer attempting to change the way industrial marketers leverage the web as a growth-oriented, lead generation machine. View all posts by Tom Repp