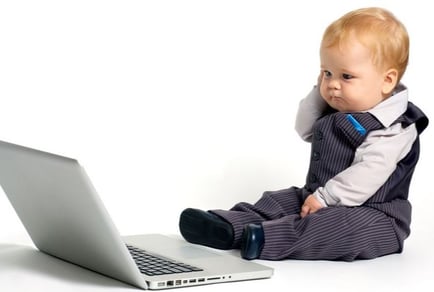 Think hard now…when was the last time you saw some valuable content on the web and decided to download?
You said to yourself, "Man, that looks like great information…just what I was looking for."
Then you hit the download button and changed your mind because you had to give up your name & e-mail address. You thought, "The content looks great, but I don't want to open myself up for more harassment."
If you are like me, you harbored some lingering pangs of distrust towards the company that offered up the content…for "free".
Research demonstrates that 90% of web-users will ignore the sign-up page for fear of getting peppered with more email. It seems the whole privacy/data collection issue is top-of-mind for consumers.
For those of you that follow this blog you know that I am a huge proponent of marketing automation platforms like HubSpot. All marketing automation platforms make their living…sort of speak…by exchanging personal data for "gated" content. Using forms to gather more information about an interested prospect has been the virtual foundation of most of these marketing automation platforms. Information gathered from forms is the currency many of these platforms promote as "lead generation" and the best way to cost-justify the additional expense of marketing automation.
Now, however, after much thought and research I am leaning towards ungating content as common practice…as I have done on my own page. (If you download some of my work…enjoy!)
But…like a good economist, "It depends" or "on the other hand"
It depends on a lot of issues.
Allow me to explain my transition from a believer in gated content towards ungated content. This short journey is designed to give you pros & cons based on my own transition and offer great references from the some of the best marketing minds on the planet, David Meerman Scott and Mark Schaefer.
Both David and Mark have recently argued against gating your content and both have influenced me to take down the walls. In the "age of distrust", it simply does not make sense to put a barrier between your best content and your potential customers.
On the other hand, there are times when it makes sense to gate your content.
I suggest you take time to study this marketing dilemma to ensure you make the best decision for your company's marketing strategy.
Let's start with an excellent blog post by Mark titled, Updating the Argument Against Gated Content
Mark discusses:
The current state of gated content
The effect of GDPR on your content strategy
Arguments concerning the value exchange: giving your personal data in exchange for great content.
A couple valuable case studies
A simple rule of thumb
Check out Mark's excellent discussion about gated content.
David generally argues against gating any of your content. David recently did an interview with my friend Bruce McDuffee from Manufacturing Marketing Group. Here is the link with a transcript so you can easily go to the exact discussion concerning gated content.
Key elements of David's discussion of why you need to share your content, freely:
Why gated content can be adversarial
Use secondary offers to gather data from prospects
How the Grateful Dead influenced David's decision to use ungated content
Informative case studies
How ungated content creates valuable inbound links
In Oct 2018 David tweeted some great information from cord dna (A web hosting, marketing, data analytics company in Boston) titled, Let's End This Gated vs Ungated Content Battle Once and For All.
Core dna's writer provides great prospective for both pros and cons of gated content:
A more strategic approach to gated content
How to draw in top-of-the-funnel prospects with ungated content and then nurture and segment leads using gated content.
Once you have taken this short journey and studied concepts outlined above you will be able to settle the gated vs ungated battle for your company's benefit.
What are your thoughts on gated vs. ungated content for industrial marketers?
For more info on what The Repp Group can do for your industrial marketing & lead generation…CLICK BELOW
Author:

Tom Repp

A passionate marketer attempting to change the way industrial marketers leverage the web as a growth-oriented, lead generation machine. View all posts by Tom Repp