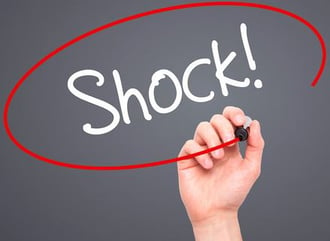 Generally, content marketing is still the hottest thing in marketing. However, industrial content marketing remains underutilized and a significant opportunity for industrial marketers.
In 2014, at content marketing's frenzied peak, Mark Schaefer horrified the marketing community with a blog post titled: Content Shock: Why content marketing is not a sustainable strategy. Schaefer's basic premise is based on supply and demand.
This was a real shocker for content marketing evangelists such as me and some of my content marketing partners.
Schaefer continues, "Depending on what study you read, the amount of available web-based content (the supply) is doubling every 9 to24 months. Unimaginable, really".
No doubt…we are all amazed at the amount of quality information available for just about any topic on the planet. Schaefer continues, "The upward trend of content consumption is not sustainable because every human has a physiological, inviolable limit to the amount of contend they can consume."
I agree with Schaefer's basic assessment. However, I do not believe it holds true for the industrial market.
Let me explain:
Basically, good content is found using search engine optimization (SEO) techniques. If you create great content for your prospects, what marketing value does it provide if not found by your audience? So, generally a good marketer will build content around critical keyword phrases for their business.
For example, a Parker hydraulics store might specialize in custom hydraulic manifold building. This unique product separates them from other hydraulic suppliers or other Parker dealers in the region. Therefore, the content marketing minds get together and decide to create an online e-book titled, How to Specify & Buy a Custom Hydraulic Manifold. The wizards also create a landing page with the keyword phrase, "custom hydraulic manifold" in the URL address, as well as title tag and meta description tag. They also promote the content on their blog, as well as other channels like email and Linkedin industry groups.
I guarantee the landing page and downloadable e-book will be at the top of Google in a week for the keyword phrase, "custom hydraulic manifold". Can you say, "lead generation"? Can you say, "branding…with a long reach"?
Here's why.
There is no content shock for the content built around, "custom hydraulic manifold". Or, put another way, the content saturation level for "custom hydraulic manifold" is extremely low. In fact, there are ONLY 233 pages on the web with "custom hydraulic manifold" in the title tag. (For the industrial market, I consider anything below 10,000 pages easy pickings.)
In fact, I would call it a CONTENT VOID.
Low hanging fruit.
For the millennial engineer looking for helpful information, this content is highly sustainable as a lead generation tactic. It hardly has a "physiological, inviolable limit"
If the Parker dealer focused on helping their plant floor engineers in their daily challenges and "flooded the zone" with helpful content over a period of a year or two, the dealer could build a sustainable "digital moat" around their business because they would "own" the first page of Google for "custom hydraulic manifolds." They would soon be a trusted advocate for the engineers that actually purchase these products.
Why?
Because Google rewards the web pages and content that has longevity and garners the most clicks. Not only that…your marketing efforts live on the web forever, creating sustainable, top-of-mind branding and lead generation benefits.
Content Shock for the industrial market? Far from it.
I would call it a CONTENT VOID.
Will you fill that void?
For more info on what The Repp Group can do for your industrial marketing & lead generation…CLICK BELOW
Author:

Tom Repp

A passionate marketer attempting to change the way industrial marketers leverage the web as a growth-oriented, lead generation machine. View all posts by Tom Repp