Tom Repp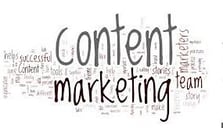 Content saturation is an important digital concept to grasp, especially for industrial marketers.
First, let's define "content"…from an industrial marketing standpoint.
Content is any information deployed on the web that explains your industrial products or services and is primarily designed to attract visitors to your website. From my point of view, your industrial content should be 80% helpful & 20% promotional. In the age of search and social media, your content must be helpful or it "sucks", as the Millennials say. That is what the Millennials say. To me, it just makes for good marketing.
So…helpful content could be in the form of:
• A webpage
• A blog post
• An e-mail blast to opt-in subscribers only
• A downloadable product specification sheet
• A downloadable e-book that explains your company's unique capabilities
• A company LinkedIn page
• A blog post promoted via your LinkedIn industry groups Sometimes with a market reach of a million plus…and, its FREE.
• A tweet from your corporate Twitter page.
• Corporate or product demonstration videos on YouTube
• Online webinars
• Video
• Etc.

Now that we have the definition out of the way, let me demonstrate how you can check content saturation for your industrial business. And, zero in on your bonanza.
Go to Google and type in "quench oil coolers" into Google's search box. Be sure and use quotation marks around "quench oil coolers". FYI, quench oil coolers are industrial appliances that sit on a plant floor to cool oil in the metal and heat treating industry.
If you type in "quench oil coolers" today (July 13, 2015) you will notice at the top left of Google's search engine return page (SERP) there is a number. It should be around 3,790. This number identifies web pages that Google found with "quench oil coolers" in the title tag of the page. If the keyword phrase, "quench oil coolers", is in the title tag, you can bet that web page is talking about "quench oil coolers".
In this case, the content saturation is below 10,000. Given such a low number, I would advise my client to create great content with abandon. Within several weeks, you will dominate that specific keyword phrase. GUARANTEED!
Let's try another industrial product, "ultra-high pressure water pumps". In this case, there are only 8,180 web pages in the whole world with "ultra-high pressure water pumps" in the title tag. Notice, with little effort one of our customers is first on Google's SERP (www.jetech.com). Again, this is a case of little competitive content…a low content saturation rate.
Generally, if you can find keywords in your industry with fewer than 10,000 web pages you should "flood the zone"…as they say in football. There is opportunity for your business to take advantage of such low content saturation.
Now let's try another industrial keyword, ''vendor managed inventory", an industrial service, rather than a product. Notice we now see 1.9 million pages with "vendor managed inventory" in the title tag. This will take a great deal of effort to get on the first page of Google. It can be done. It will take more creativity, sweat equity and patience.
In this case, you need to change your strategy entirely. You will need to differentiate your content by using different Linkedin Groups, content format or expand your keyword to a "long-tail" keyword.
Let's try a long-tail version of "vendor managed inventory". We know that more & more engineers and purchasing agents are using the web to source industrial products. Many times, they now look for blogs for more information. So let's try "vendor managed inventory blog".
Maybe, we can pick some low-hanging fruit.
Type in "vendor managed inventory blog" into Google's search box. Holy bonanza…there were only 3 pages with "vendor managed inventory blog" in the title tag at this writing.
Using analytics for our customer, we now find that this page was visited 32 times since we published this blog post on June 1, 2015. Several of our blog posts managed to rank between 3 and 6 on the first page of Google search return page. Certainly better than using a high-density keyword such as "vendor managed inventory".
Industrial marketers are blessed with low content saturation for their primary keywords such as the examples above. And…when there is more competition for critical keywords in your industry,you can easily overcome by using fresh and creative strategies. Primarily because your industrial marketing friends don't know how to do this…yet.
Content saturation and your industrial marketing strategy summary:
Excellent search engine return results are easier for industrial products than consumer products because of low content saturation.
Generally, low content saturation represents a bonanza for industrial lead generation.
When there is high content saturation for critical industry keywords, using long-tail keyword strategies or you can use different content formats such as webinars, videos, etc. We have found one of the most effective ways to promote critical content/keywords is publishing blog posts using social media, specifically LinkedIn Groups.
Go ahead, type in your critical keywords for your company into Google and see how hard you will have to work to get on page one of Google. In most cases, it is relatively easy. Think about it, how many people are searching on Google for "custom hydraulic manifolds" versus "60 inch LED tv"?
Blogging is the best place to practice your newfound content saturation skills.
Maybe you are ready to raise your hand and say, "Help". Click the graphic below for a COMPLIMENTARY 30 minute consultation.
Author:

Tom Repp

A passionate marketer attempting to change the way industrial marketers leverage the web as a growth-oriented, lead generation machine. View all posts by Tom Repp