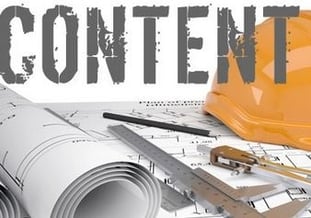 Market statistics tell us more & more industrial marketers are starting to implement content marketing, or inbound marketing, as some call it. According to IHS GlobalSpec Research Report, 61 percent of B2B manufacturers are now using this relatively new marketing tactic. At least, new to many industrial marketers.
However, the same research tells us that only 9% can demonstrate how content marketing contributes to sales ROI.
I believe the following 4 critical elements are missing from industrial marketers' content marketing strategy and the reason only 9% find an ROI benefit.
Consistent Collaboration:
From the outset of your new-found marketing strategy, there must be a commitment from management and owners. This commitment must be real and consistent or your efforts will failure.
Experimentation is Required:
The hallmark of a good industrial content marketing strategy is creativity. Therefore, there will be failures and setbacks. However, using marketing automation to measure your efforts allows you to easily adjust and learn from your mistakes. Much smarter than depending on your gut…the old way of industrial marketing.
SEO is Not the Focus:
Don't worry about SEO and search visibility, but focus on building trust with your potential buyers with content they love & find helpful. Your content should only be 10% to 20% promotional and 90% to 80% helpful.
Have a Vision:
I often tell my industrial customers, "My goal is to create the Wikipedia for your industry". Many times this, briefly, gets them to understand what we are actually doing. However, when it comes to execution, collaboration and old-fashioned sweat equity, the vison fades off into the distant. Your content marketing strategy, as any successful endeavor, takes a commitment to hard work
This is not BS or an attempt at a thought-leading blog post. This is real world experience speaking.
Do not doubt me.
Our Beginner's Guide to Industrial Content Marketing is a great place to begin your journey.
DOWNLOAD NOW, Beginner's Guide to Industrial Content Marketing
.
Maybe you are ready to raise your hand and say, "Help". Click the graphic below for a COMPLIMENTARY 30 minute consultation.

Author:

Tom Repp

A passionate marketer attempting to change the way industrial marketers leverage the web as a growth-oriented, lead generation machine. View all posts by Tom Repp