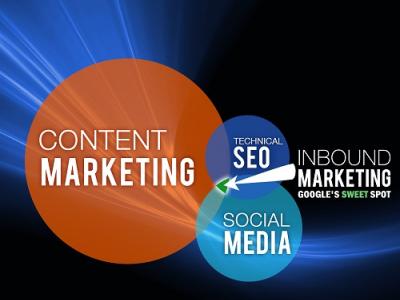 I often get the question from industrial marketers curious about content marketing or inbound marketing, "Tom, what's the difference between regular advertising and content/inbound marketing for industrial?" (Want to know more, see me last blog).
Typically, advertising is designed to make a sale. Right now.
Think of all the cheesy ads you see on TV. "If you call in the next 10 minutes we will throw in FREE shipping", or "But wait, we are not done, call in the next 10 minutes and we will send you a second item FREE, just pay the shipping & handling charges." Right!
Many ads will sell from fear. Think of the insurance ads designed to get you to think about something that you would rather not think about, from Allstate's "Mayhem", to State Farm's "discount double check" to Nationwide's "Greatest Spokesman". These ads are designed to interrupt you and get you to think about something unpleasant, often using fear to get you to act.
Harley Davidson takes a different approach. No one sells "The Dream" better than Harley. Think, "Ride hard or stay home" One of my favorites is the guy behind a large amount of sweat and an old crappy lawnmower…looking very distracted. The copy of the ad simply says, "Stop dreaming".
This is interruptive marketing at its best…or worst, depending on your point of view.
Rather than marketing to the masses, content/inbound marketing is designed to greet your interested prospect with an answer at a time that suits them best.
Think of your customer or prospect that has specific intent when they go to Google. "What's the best way to lower the cost of maintenance for my Baldor single phase motors?" Or, "Who has experience building custom hydraulic manifolds for my plant floor?"
Imagine the quality leads you would get if your prospect is greeted with a web page that answers that specific question. That, my industrial marketing friend, is a SQL or sales qualified lead. Your "qualified" prospect just raised his hand and said, "Help!"
Your future customer just came to you, instead of your chasing him.
But wait. There is one more HUGE difference between the two marketing strategies.
Guess what? The content you just inserted on a web page, blog post or webinar that DELIGHTED your prospect will endure forever.
Does your salesman endure forever? Does your "ready, shoot, aim", cold call, trade show, line card, brochure, display ad endure forever?
Advertising has a very short shelf life. Content/inbound marketing does not. Content marketing for industrial works, and works, and works, and works?
Are you using content marketing or inbound marketing for your next significant marketing effort within your industrial company?
If you are, pay more attention than ever to your industrial brand. I will feature a follow up to this post tomorrow, With Inbound or Content Marketing Your Industrial Brand Lasts Forever. Make Sure it is Right.
Maybe you are ready to raise your hand and say "Help". Click the graphic below for a COMPLIMENTARY 30 minute consultation.

Author:

Tom Repp

A passionate marketer attempting to change the way industrial marketers leverage the web as a growth-oriented, lead generation machine. View all posts by Tom Repp