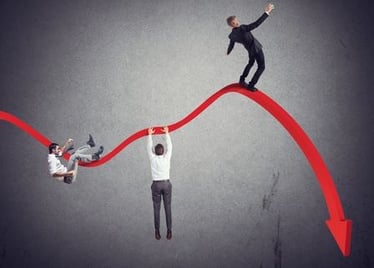 I have found smart phone apps such as Google News, Feedly, Flipboard & others extremely helpful when it comes to keeping up with industrial marketing strategies & trends. For example, I monitor my favorite blogs & authors with Feedly, Also, apps like Google News, Flipboard can be customized to my exact interests. For me, some of the feeds/categories include "industrial marketing", "industrial content marketing ". When I discover an article that I want to read or reference at a later date, I save it to www.getpocket.com, one of the handiest tools on the web.
For me, this system is an invaluable time-saver. In fact, this past weekend I caught up while waiting for my wife outside the dressing rooms at Macy's. Told ya' it was an invaluable time-saver
Anyway…
I came across this headline at www.entrepreneur.com, 5 Trends Shaping the Future of Content Marketing.
Keep in mind this stuff geeks me…as I see this stuff through the lens of a passionate digital industrial marketer.
Just for a moment…view this concept through my lens.
No need to link to this article or read it, unless you want to. So…here are the 5 trends, compliments of Entrepreneur magazine & guest writer Jonathan Chaupin:
"Immersing consumers in virtual reality"
"Using artificial intelligence to curate content"
"Creating quality content through native advertising"
"Creating authentic interactions via livestreaming"
"Developing and telling stories with influence marketing campaigns"
Now…let's be honest. Most mid-size industrial marketers will not even know what these tactics are, brought to you by the tsunami of disruption in the marketing world.
Here's my point. Don't stick your head in the sand & think that sales are going to improve doing what has worked in the past. It will not.
On the other hand, do not be intimidated by some of the disruptive marketing tactics mentioned in Chaupin's article.
My advice! Just get started.
For those of you that are accomplished musicians. You did not start playing Chopin, you just started. For those of you that are accomplished golfers. You did not start with a 5 handicap. For those you that are accomplished trap shooters. You did not start hitting all 25 targets.
And…for those of you that doubt content marketing can work, there are simply too many examples of mid-size industrials that have improved top-line growth by just getting started. Further, the benefits of having quality, branded content on the web, telling your company's unique story, will accrue over years…establishing a digital moat around your business.
One of my own customers, www.hecoinc.com, is building that digital moat around his industrial supply & service business.
My friend, Ed Marsh, another practitioner of industrial content marketing, has many success stories, such as a capital equipment manufacturer in Atlanta.
HubSpot, the leader in marketing automation and content marketing for mid-sizes demonstrates how a 27 year-old manufacturing company grew sales by a million dollars…simply by getting started.
I am also familiar with Salazar Packaging in Chicago area. Salazar Packaging marched to a different kind of customer. Salazar leveraged disruptive technologies such as e-commerce, social media, digital printing, to generate dynamic growth. Not your typical industrial supply company.
Give another good friend, Bruce McDuffee, a call at Manufacturing Marketing Group. Bruce can give you lots of examples of manufacturing companies that are now marching in step with their customers.
I personally know the owners that created these successful strategies and they have contributed directly to their top-line growth in a flat-line economy.
Imagine what these companies are poised to do in a growing economy, particularly as more & more of their customers march in a manner unlike industrial customers of the past.
Your customers are on the march.
Is your industrial marketing strategy?
Author:

Tom Repp

A passionate marketer attempting to change the way industrial marketers leverage the web as a growth-oriented, lead generation machine. View all posts by Tom Repp