Tom Repp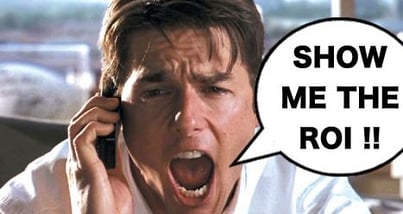 We recently went to work for several B2B manufacturers using content marketing…or inbound marketing, as some call it. We set realistic expectations and advised our customers not to expect much, in terms of lead generation, from content deployment (e-mail, premium e-books and regular blog posts) for six months.
In each instance, we started with a newly refined brand message that positioned our industrial manufacturers' "above the fold" from the same ol', same ol' "superior service", "great prices", "best quality". Traditional brand statements will never elevate our clients above their competitors in the age of search, social and mobile. As my branding expert friend, Greg Miller at Maxwell+Miller, reminds me, "Those are not points of differentiation, they are points of entry".
With shiny new brand themes, we deploy some terrific content designed to create top-of-mind awareness and fill the top of the funnel with prospects on their sourcing journey.
At this early stage, we are only measuring website visits and visitors that "convert". That is, users who fill out a form with first name, last name & e-mail address. We set specific goals and exceed those goals within the first month. Based on the data from our HubSpot marketing automation platform we make some critical and creative adjustments. After several months just slightly exceeding our goals, we blow away our numbers with 500% increases by making important adjustments for one of our B2B manufacturers.
With only a few months into our digital marketing efforts, we still see no closed deals and no ROI
Is it time to party or panic?
Such is the state of marketing in the Age of Google. Using new marketing methods and incredible analytic tools, such as HubSpot, judging marketing success by ROI alone is like judging Miss American by her shoe size.
Our customers' brand is expanding, especially in the Linkedin industry groups. Our marketing reach quickly exceeds a half million for one client, with just one click of a new blog post.
Other, more granular KPIs (Key Performance Indicators) such as keyword placement are looking great. For one manufacturer we are tracking 77 critical keywords. 11 of the keywords are now on the first page of Google, previously not even seen by Google just a few months ago
What is an industrial marketer to do?
My digital marketing friend, Ed Marsh, makes a strong case to ignore the ROI in the short run and focus on the larger opportunities, especially when the KPIs are as positive as mentioned above.
"It's time to change the mindset of marketing as an expense vs "cost of sales"; and to create strategic value"
"For marketing this is an incredible opportunity…they [marketing] can finally compete dispassionately for constrained resources. And there are few investments which will return as handsomely as superb marketing. (Operations beware! Your capital investments will be subject to new competition!)", says Marsh.
Before you think about short-term financial implications of your content/inbound industrial marketing…think about the long-term opportunities and the potential ROI of your newfound marketing strategies.
Content marketing for industrial can provide a different view of traditional ROI for the industrial marketer, along with these additional benefits, says Marsh:
Allocate revenue growth resources
Vet internet external business development
Effectively monitor progress
Measure & qualify results in real business terms
Guide continuous improvement
Improve revenue projections
Boost business valuation
For a fresh perspective on the ROI of your industry marketing strategy, look at Ed Marsh's B2B Marketing for Manufacturers. A Guide for Finance Executives
Content/inbound marketing for industrial can provide an amazing competitive advantage if you take the long view of your ROI.
Need more proof and data, check these 35 statistics from another B2B content/inbound marketing practitioner that prove the ROI of content/inbound marketing.
Maybe you are ready to raise your hand and say, "Help". Click the graphic below for a COMPLIMENTARY 30 minute consultation.
Author:

Tom Repp

A passionate marketer attempting to change the way industrial marketers leverage the web as a growth-oriented, lead generation machine. View all posts by Tom Repp