Tom Repp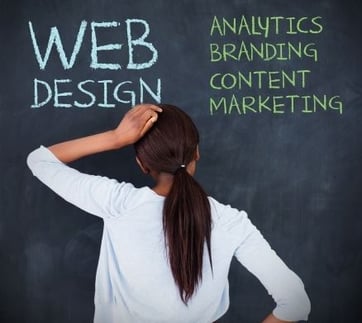 I was recently called into to consult with a mid-size manufacturer in Indiana. The President was an old high school basketball teammate and he wanted advice on the best way to generate more traffic and leads from their website. He simply felt the opportunity for lead generation had passed his company by when it came to leveraging the power of the web.
He was right.
Their business was doing well and they had some unique differentiating features for their industrial product, so I viewed this as an excellent opportunity. It was easy to see that their products needed a brand theme or story that would resonate differences in the marketplace.
I then met the new marketing manager that was hell-bent on firing up an aggressive content marketing campaign. The President was also hell-bent on using a local web developer to freshen up their website. Just like his impatience on the basketball court, he demanded that a new website be finished in one month.
The marketing manager had read lots of content on the web about content marketing for industrial (…Or, as some call it, inbound marketing for industrial). He devoured much of the content by HubSpot about content marketing. (HubSpot's founder, Brian Halligan, was the originator of the term "inbound marketing"). The marketing manager actually found my blog because of my HubSpot certification and my blog's focus on industrial internet marketing,
The marketing manager also attended Content Marketing World this past September in Cleveland. He was fired up and now had a shiny new toy. The problem was, he had no experience deploying a content campaign and had not read the entire instruction manual.
Don't Forget a Fresh Brand Theme That Separates Your Industrial Company from Your Competitors
So…they launched a new website devoid of any fresh brand theme that should have said, "We are industry leaders, we have a unique advantage & how can we help?" Instead, the new website screams, "Here…want to buy some products?" Just like ALL their competitors.
Absent of any coordination with the web development group, they started the content marketing campaign. Kinda' reminded me of Lucille & Ethel at the chocolate factory.
Don't Forget Your SEO Basics
They did have some creative ideas about content, but content marketing without marketing is useless in the age of search, mobile and social. SEO is a common victim when industrial companies decide it is time to compete in the content marketing arena. I suggested they put in the legwork and learn SEO basics to ensure their new content will be found and benefit their marketing efforts.
For example, one of the first tenants of content marketing is blogging, and this company had lots to blog about. They had some unique keywords that had very low content saturation levels and presented wonderful opportunities for visibility.
Unfortunately, there was not enough emphasis placed on the blog module when the website was designed and the interface for the authors (typically writers who were non-technical) was clunky and not SEO friendly. So the correct emphasis on meta description tags, headers and content were not in alignment.
Additionally, there was no real strategy, schedule, keyword emphasis or editorial calendar mapped out. From a visibility standpoint, their blogs were useless in terms of attracting visitors and capturing leads.
Social Media Marketing & Landing Pages are Content's Best Teammates
Even if their blog posts attracted visitors, the website design had no landing pages with forms to capture leads. In addition, the blog module had no way to automatically publish posts via social media, so social publishing (i.e. web marketing) fell by the wayside…one of the best ways to add inbound links for improved SEO.
E-mail Marketing Was an Afterthought
If you produce email or newsletters your audience loves and looks forward to, then content loves email for digital marketing purposes. Unfortunately, our industrial friends failed to coordinate their content with their Constant Contact database. Therefore, the opportunity for backlinks to landing pages and lead generation were also lost.
I admire my former teammate for his career success and understanding his digital marketing needed some outside help. However, his desire to get things done quickly and delegate to his own staff that lacked experience and knowledge for digital marketing success is all too common in the industrial market.
I truly felt bad I could not have more of an impact on the marketing. But clients have responsibilities also.
I contrast this with a local company that we are working with. Our local client did their due diligence when it came to their digital marketing and followed our advice and experience.
The difference is truly amazing.
Subscribe to my twitter list: industrial-inbound at https://twitter.com/twrepp/lists/industrial-inbound/subscribers
Author:

Tom Repp

A passionate marketer attempting to change the way industrial marketers leverage the web as a growth-oriented, lead generation machine. View all posts by Tom Repp